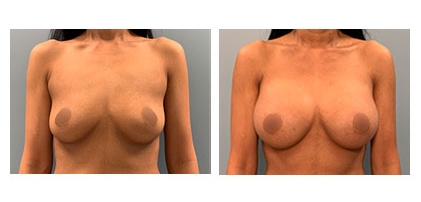 B
reast augmentation is one of the most popular and most frequently performed surgical procedures in the United States. Though women undergo this procedure for many different reasons – aesthetic, asymmetry correction, pregnancy, or postsurgical correction – Dr. Z's results are undeniably beautiful! Breast augmentation gives women a fuller, beautifully proportioned look that enhances her figure to achieve new levels of self-confidence. At bodybyZ, we offer beautiful, natural-looking breast augmentation through safe and effective surgical techniques that are minimally invasive and, most often, virtually scarless.
Is breast augmentation right for me?
Breast surgery is a personal choice that people make for many different reasons. At the initial patient consultation, we listen to your motivation behind seeking surgery. This gives us insight into what results you are looking for as well as whether breast augmentation and breast implants are the best choice for you. We ensure that you have reasonable expectations for what surgery can offer you and provide you information to help you decide if there are other procedures that would help you achieve your desired look. We also ask for your medical history and ensure that you are in good mental and physical health. Dr. Z provides an evaluation for you that includes both a physical examination and discussion of your goals. The benefits and risks of surgery are considered for each patient. Dr. Z performs hundreds of breast surgeries per year, taking care of women at all different stages of their lives. No matter the reason you are seeking breast surgery, we are able to provide you with the best advice available based on your individuality.
What type of implant is best for me?
While there are several breast implant manufacturers, there are essentially two types of implant materials: silicone gel and saline. Both are FDA-approved and are surrounded by a silicone shell. During your consultation, Dr. Z will discuss with you which implant is best for your anatomy and your goals.
Silicone implant

s are filled with a "gummy"-like silicone gel to a preset size. The advantages of silicone are a more natural feel and look to the breast with less chance of rippling of the breast implant.

Saline implants

are filled with saltwater solution to achieve just the right size. The implant is placed in the pocket and then filled with saline. Saline is similar to natural body fluids and offers a firmer feel than silicone. The advantages of saline implants are the ability to adjust the implant size as well as requiring a slightly smaller incision.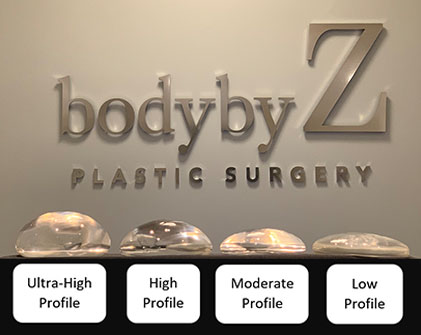 How do I know which implant size is best for me?
At bodybyZ, we focus on helping you to feel confident and satisfied with the size of your breasts. Choosing an implant size can be overwhelming for some patients as they try to picture what they will look like after surgery. Many patients may be looking at before-and-after photos online and finding it difficult to imagine their own results. This is why at our practice we use state-of-the art tools to advise you on what implant is best for your anatomy, your lifestyle and your desired look. After listening to your surgery goals as well as reviewing any photos you would like to show us to convey your desired look, we use technology to help us. Vectra 3D imaging simulates a 3D image of your projected results with the ability to "try on" a comprehensive library of implants from multiple implant companies, including Sientra, Allergan and Mentor. This program automatically makes multiple measurements of your chest, which we use to advise you on an implant range based on your anatomy. You can then see your simulated results in multiple views: from the front, side, above and below. We also can compare multiple different implant choices side by side. If you need a breast lift, we can also simulate multiple types of lifts with or without a breast implant.
After 3D imaging, we have you try on implant sizers so that, in addition to the 3D imaging, you can see what your breasts would look like with different implant volumes. These two techniques, combined with over 60 years of expertise among Dr. Z and the physician assistant and nurses, will help you feel reassured and confident that you have made the right decision.
What are implant profiles and how do I know which one is best for me?
You may have seen information about implant profiles online. Profile describes the dimensions, or shape, of the implant. The profiles range from low to high, also known as full. The lower-profile implants are more flat but offer more width, while the higher, or fuller-profile implants are less flat and narrower. Each patient's anatomy is different and Dr. Z suggests the implant that best fits your desired look and your natural anatomy. For example, if you have a narrow chest and desire increased fullness, a high profile might be best for you.
Breast Augmentation Techniques
Where are breast augmentation incisions and scars located? There are a few different options for scar placement with breast augmentation. There are typically two different types of incisions that are made on the breast: through the breast crease or through the areola. Dr. Z is able to provide a third option that many other plastic surgeons are not trained in: the transaxillary, or armpit, approach. This approach completely avoids any scar on the breast, so there is no evidence of surgery having been performed. For over 20 years, Dr. Z has trained plastic surgery residents, performed live surgeries for other physicians as well as published papers on the following techniques: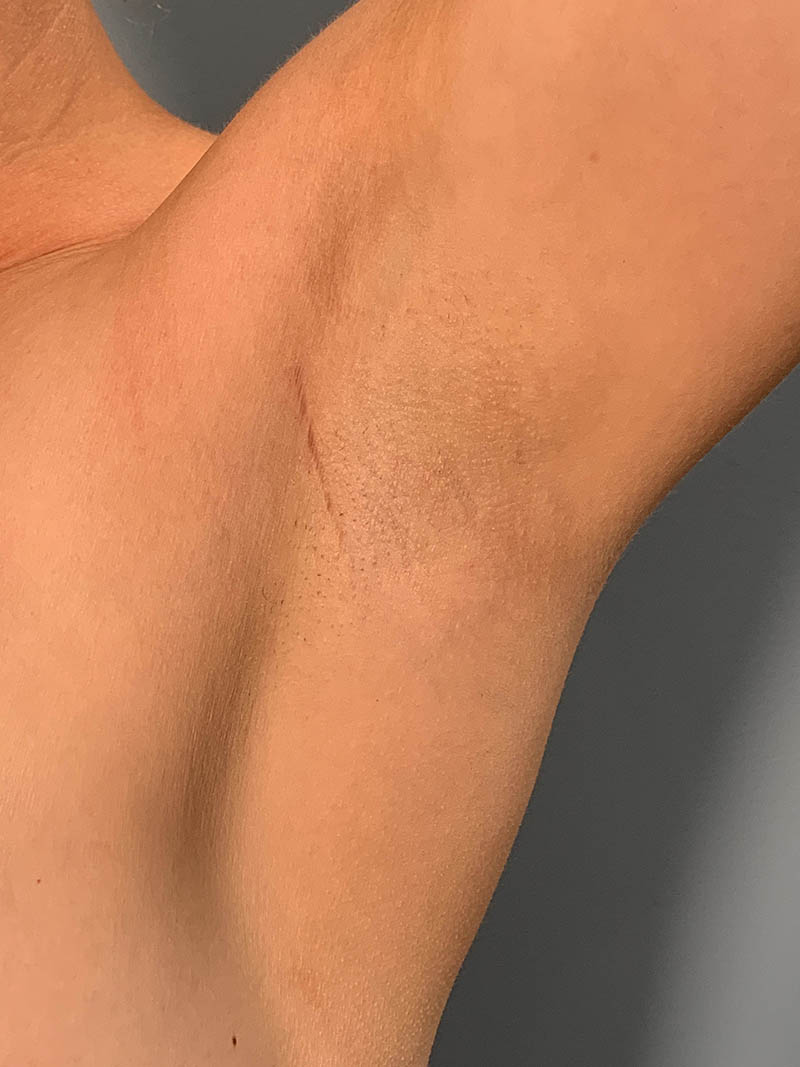 Transaxillary breast implant

requires a tiny incision (only a few centimeters) under your armpit through which the implant is placed using a Keller funnel. Dr. Z will set the implant in the newly created larger breast pocket and ensure proper, meaning perfect, placement. This no-touch, no-breast-incision approach is the preferred method in over 90% of breast augmentations in Asia and more than 50% of breast augmentations in South America and Europe. Fewer than 5% of surgeons in the United States take the time to learn this technologically superior skill. See the transaxillary scar example pictured here two weeks after surgery.

Transabdominal breast augmentation

is the ultimate mommy makeover breast augmentation procedure. During the abdominoplasty (tummy tuck) procedure, your breast implants will be placed into the breast pocket through your abdominal incision. Again, no incision on the breast and perfect placement. Dr. Z was honored for having this surgical innovation and results published in the September 2017 Plastic and Reconstructive Surgery Journal, the industry's most prestigious education publication for board certified plastic and reconstructive surgeons worldwide. Several of Dr. Z's TABA procedure results can be viewed in our Mommy Makeover Gallery.

AMBRA:

Dr. Zienowicz has developed the innovative new procedure called augmentation mammoplasty by reverse abdominoplasty (AMBRA). This procedure provides breast augmentation using the patient's own fat. It is recruited from the upper abdomen while simultaneously removing excess skin and fat from the upper abdomen.
How long is breast surgery recovery?
Dr. Z provides a minimally invasive technique that is gentle on your tissues and provides for an easier recovery. We have patients take medications before surgery to minimize discomfort. During surgery, numbing medication is placed so that you are as comfortable as possible in recovery. Postoperative medications are provided, and in most cases they are only needed for a short period of time. Expect to experience some muscle soreness as well as a feeling of fullness, pressure and/or tightness in your chest following surgery. We ask that you avoid heavy lifting or any activity that involves the muscles of the chest or bouncing of the implants until around six weeks after surgery. Most people return to work within one week. Our staff will help you have a quick, easy recovery and enjoying your new look as soon as possible.
For outstanding breast augmentation results from renowned plastic surgeons in Providence, Rhode Island, look to bodybyZ. The difference bodybyZ offers is the expert, safe, experienced care provided by Dr. Zienowicz and his caring and attentive clinical team. Throughout your time with us, we aim to give you the best experience possible. For more information or a consultation, call 401.453.0120. You can also use our convenient online Request a Consultation form.